Luxembourg, February 13th, 2020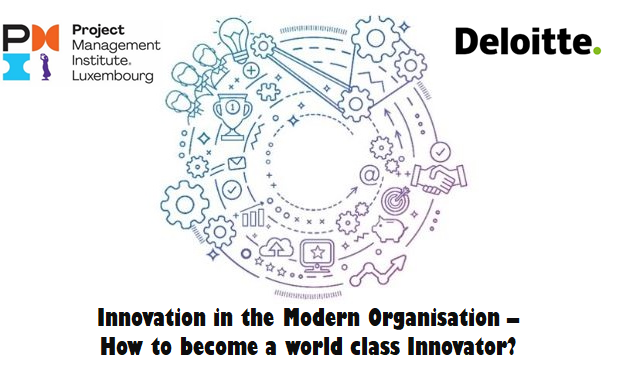 The PMI Luxembourg Chapter and Deloitte hosted an afterwork event on the subject "Innovation in the Modern Organisation – How to become a world class innovator?" before an audience of 100 people in the sparkling new Deloitte premises and auditorium.
The two organisations have a history of holding joint events where they combine the strength of Deloitte's network with the expertise of the PMI and it's growing Luxembourg Chapter, the one-stop-shop for Project Management in our country.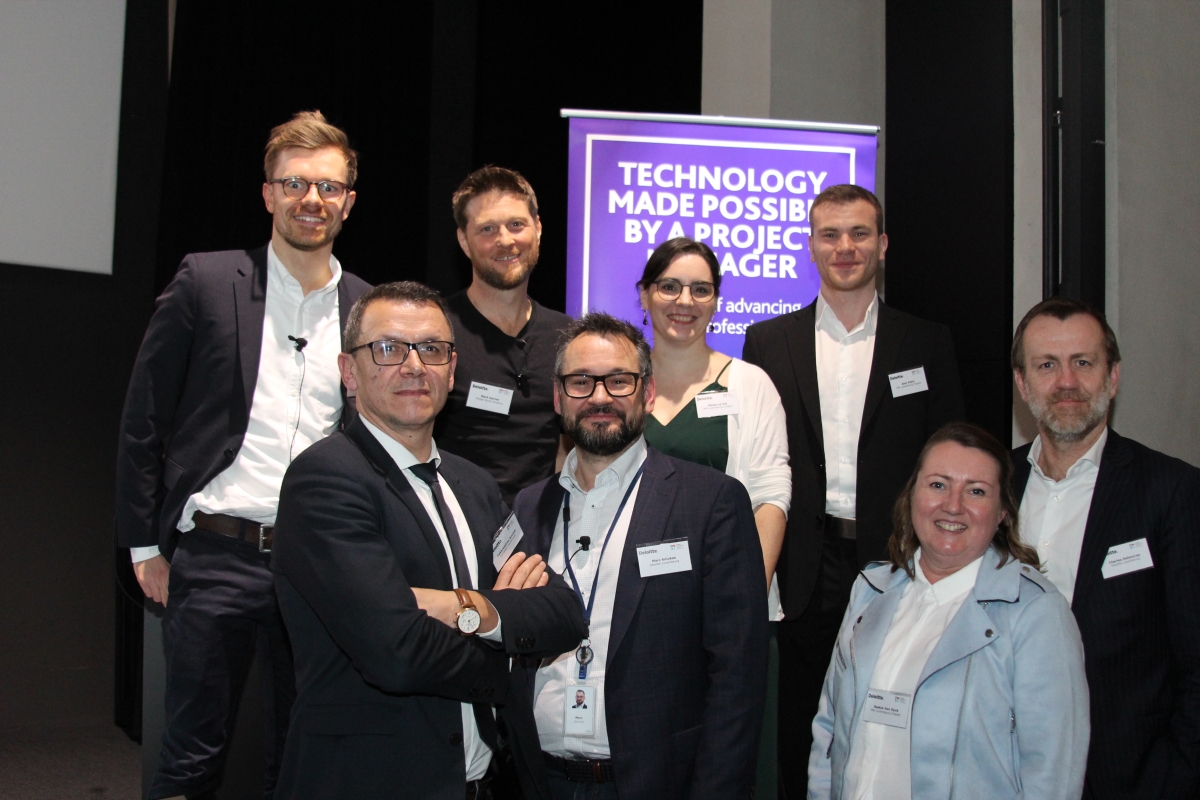 From left to right: Julius PATZELT, Dine AOUADI, Mark GARNER, Marc SNIUKAS, Eloise LE VOT, Alen PEKIC, Saskia VAN DYCK, Charles DELANCRAY
This year, Dr. Marc Sniukas, head of The Deloitte Garage Luxembourg, moderated the evening with 3 guest speakers introducing different methodologies to drive innovation, yet all with a very strong people component.
Julius Patzelt, Head of Venture Development at WATTx, explained how at this start-up studio he builds ventures with a user-centric approach. He drives transformation with a small team having the right capabilities based on a purpose defined with the user in mind.
Dine Aouadi, Head of Innovation at the European Parliament, shed light on how he drove innovation in this large organization by soliciting the innovative spirit from within. He gave everybody in the organization the opportunity to come up with ideas which become the responsibility of an Innovation Space Manager who deploys communication, personal interaction and holds events driving the innovation transformation.
Mark Garner, leader of Google Design Sprints Global Chapter, introduced the principle of a Design Sprint. Not to be confused with an agile sprint, it is a problem framing technique which is all about speed: a design sprint takes only 5 days, humanizing business questions in a process starts with a challenge and is handled by a multi-disciplinary team around the user experience.
The reflections and questions triggered by these fascinating testimonials continued after a panel discussion into the networking cocktail that finished the evening.
If you are interested in joining events like this, in becoming an active PMI member and take up development opportunities, become a speaker, or simply joining this community of Project Management practitioners where you belong, please contact , or .
Editor: Saskia VAN DYCK, PMI Luxembourg Chapter President
Photos: Crista FILIP, PMI Luxembourg Chapter Volunteer

Web Page Content Editor:

Tanya FAN,

PMI Luxembourg Chapter Volunteer

For more information contact:

Nassos KARAGEORGIADIS
Director of Marketing & Communication