On Tuesday 10.10.2017, the Luxembourg Chapter of the Project Management Institute (PMI) had invited to another exiting event: "Coaching for Growth".
To further foster the Project Management community in Luxembourg, the Chapter had invited Erica Stocks, Director Talent and Learning Development at Goodyear Dunlop Tires, to hold a highly interactive training session.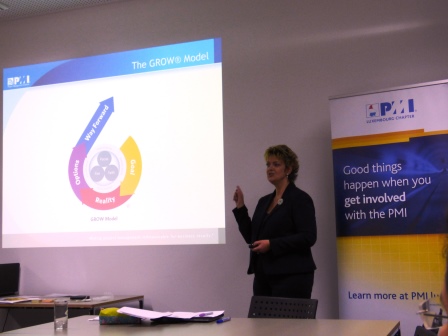 With a 32-year career in Learning & Development Erica has extensive experience as a facilitator as well as being a certified coach for the Inside Out Coaching organization, a partner of Goodyear's Learning & Development programs.
Initially planned as a member's only event, the Chapter had extended the invitations further out to interested participants of the Luxembourgish community who were keen to take up this opportunity to further develop their leadership skills while getting the opportunity to enhance knowledge, meeting peers and share ideas and solutions.
After a brief introduction by Erica, participants to the training soon became aware that this was not the average lecture on another training topic. Erica used a short icebreaker exercise to actively engage the participants and highlight the importance of human interconnections for day-to-day activities.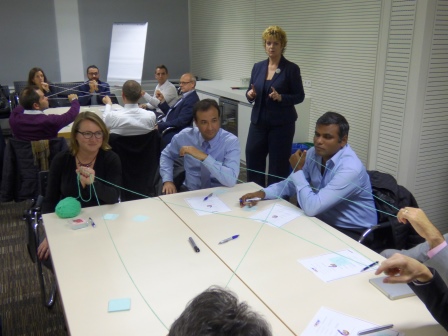 This triggered a discussion around the human skill of interaction and participants where challenged with following question: "Would your people hire you to be their coach because of the difference you make in their lives?"
Participants where engaged to reflect in a group exercise on their experience with Coaching. This highlighted that successful experiences are often based on being given freedom to express oneself and to develop and grow, rather than just having to execute orders.
Erica emphasized that coaching should always be a positive experience and motivate the coachee to be empowered. An effective coach should apply the opposite of a micro-management strategy. Leaders should guide their team, firmly believing in their ability to complete the task assigned. This might be a difficult task in crisis mode, as it is everyone's first instinct to take back control in such a situation. Hence a great leader could be identified by remaining a great coach in a crisis situation.
Participants were keen to develop these ideas in a lively discussion around the potential of coaching and the aspects of social and cultural influences on decision making.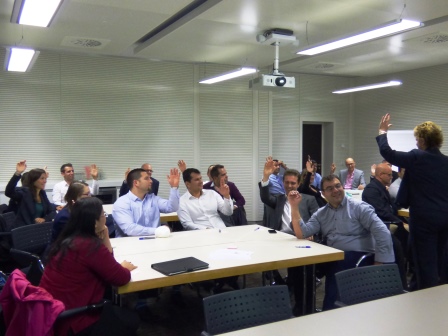 After having been introduced to the concept of Inside-Out Coaching, which enables the individuals to learn faster and act on existing knowledge, the participants got an opportunity to apply these insights and practice coaching each other. By using the "ask" approach, which puts preference on asking guiding questions rather than suggesting solutions, participants guided their exercise partner towards making progress on a problem.
The event concluded with a Networking Cocktail during which participants agreed that the insights in the soft skill of coaching obtained in this one hour training session were another building block towards success as project managers going forward.
| | |
| --- | --- |
| Editor: Eva Kirchner, PMI Luxembourg Chapter Volunteer | Pictures: Tiziana Zedda, PMI Luxembourg Chapter Volunteer |