At the General Assembly Meeting, PMI Luxembourg Chapter members in good standing and member since at least 15 September 2016 present ratified the elected candidates to form the new Board:
Vice President/Secretary: Karl-Heinz ROSSLER
Director Membership and Volunteers: Saskia VAN DYCK
Director of Finance and Sponsorship: Jas MADHUR
Co-Directors of Events and Professional Development: Samy MZABI & Todor GEORGIEV
The following positions, with a two years mandate started in January 2016, will continue to be occupied for one additional year by:
President: Liane ELBERTSEN
Director of Marketing and Communication: Stéphane LOUIS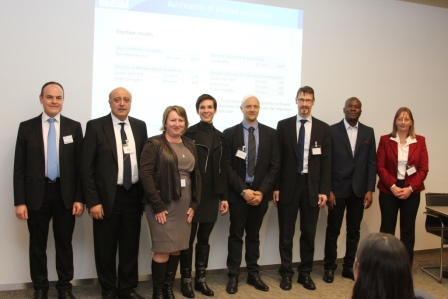 New Board and Nominating Committee of PMI Luxembourg Chapter
From left to right: Stéphane LOUIS, Jas MADHUR, Saskia VAN DYCK, Liane ELBERTSEN, Todor GEORGIEV, Karl-Heinz ROSSLER, Ousseni SORGHO and Dominique MORMONT
Excused: Samy MZABI
After an overview of 2016 Financial Report, the Chapter Plans for 2017 were outlined and a call for volunteers was launched.
If you have any question, please feel free to contact us.
We look forward to serving the project management community in Luxembourg.
The PMI Luxembourg Chapter Board of Directors